Our Caring & Compassionate Team!
Meet the Veterinarians & Team of Bridletowne Warden Animal Hospital in Scarborough! We're pleased to provide exceptional vet care for your pets! Please call us at 416-491-8706 to speak to one of our caring veterinary staff members!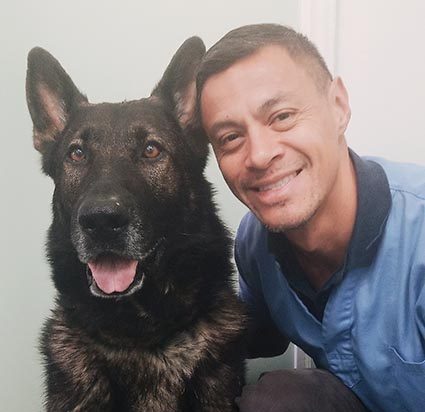 Dr. Israel Arteaga
General Practitioner
Dr. Israel Arteaga is a General Practitioner who began veterinary medicine in 2008.
Born and raised in Mexico City, Dr. Arteaga says that he fell in love with the idea of a career in animal care as a child growing up around farm animals. "I always wanted to help and treat them as they were sick," he says. "Now that I am a veterinarian I really enjoy being able to interact and educate clients on how to care and develop the best health care plans for their loved ones."
His areas of particular professional interest include dentistry, dermatology, critical care, and pain management. He is also a member of the Ontario Veterinary Medical Association and the Canadian Veterinary Medical Association.
His interests include all outdoor activities, especially biking, running and hiking.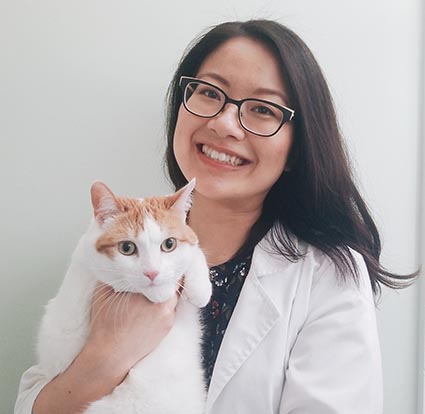 Dr. Rebecca Ang
General Practitioner
Born and raised here in Toronto, Dr. Ang-Francisco has always been surrounded by animals. Growing up with multiple cats and assisting in foster care at a young age it's no surprise that she has an interest in veterinary medicine. After graduating from McMaster University with an Honours Biology degree, she worked at Bridletowne Warden Animal Hospital while achieving her veterinary technician diploma in 2013.
Dr. Ang-Francisco continued on to the Ontario Veterinary College, graduating in 2018, where she developed interests in preventative health care, anesthesia, and surgery. She now strives to work closely with clients to achieve the best quality of care for each four-legged family member.
In her spare time, Dr. Ang-Francisco loves training her two cats, Shadow and Charlie, as well as running, painting, and spending time with her family and friends.
Coming Soon
General Practitioner
Coming Soon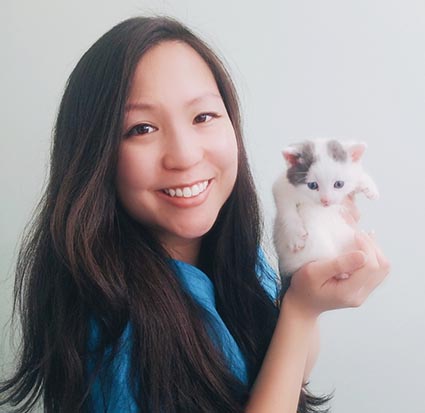 Amanda Law
Practice Manager
Amanda Law is our Practice Manager who started her involvement in animal care in 2013.
Born and raised in Hong Kong and Toronto, Amanda has a business degree from the University of Toronto and speaks multiple languages including Cantonese and Mandarin. She has a passion for animals and works closely with Annex Cat Rescue to foster kittens and cats. Amanda has one cat named Mowgli who helps her settle in new foster cats.
Cameryn Liu-Rattana
Veterinary Technician
"I'm Cameryn, one of the veterinary technicians here at Bridletowne Warden Animal Hospital. I graduated from Seneca college in 2021 and have been enjoying my time as a vet tech ever since!
I love spending time with your fluffy family members, and I always look forward to meeting new puppies and kittens. I do have quite a few fluffy family members myself, along with some non-fluffy ones like lizards, turtles, snakes and an axolotl. When I'm not spending time with animals I'm usually outdoors exploring new places, watching scary movies or YouTube videos, or hanging out with my friends."
Leon Bian
Veterinary Technician
Born and raised in China and moved to Toronto in 2016. Leon had graduated from the Veterinary Technician program in 2021 and joined the Bridletowne Warden Animal Hospital family in the same year. He has a special interest in anesthesia and surgery and loves to work with both cats and dogs.
In his spare time, he enjoys watching UFC and soccer with his friends, playing video games, and hiking with his puppy, PengPeng.
Isabel Cevallos Darquea
Veterinary Technician
Bio coming soon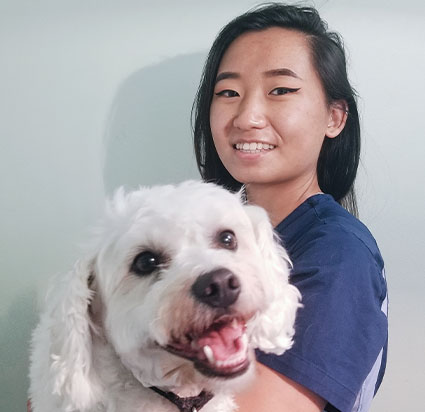 Winnie Lam
Veterinary Assistant
Born and raised in Toronto, Winnie has 2 certificates as a Veterinary Assistant from Durham and Seneca college. Winnie enjoys interacting with clients and patients and values the experience she has gained since starting here at Bridletowne Warden. She is looking forward to advancing her knowledge in the veterinary field as she continues with us. Winnie has a chunky little Dachshund named Turbo, who is on a Metabolic + Mobility + Joint care weight management journey with us and our partner, Hills.
In her spare time, she enjoys exploring different genres of music as an avid concert-goer and mastering the art of making the perfect chocolate chip toffee cookie.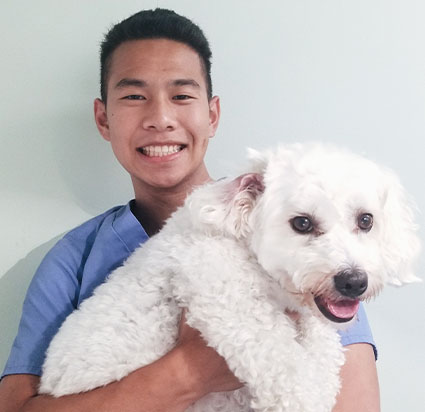 Alex Leung
Veterinary Assistant
Born and raised in Markham, Alex is currently a 2nd year student studying Animal Biology at the University of Guelph hoping to pursue the veterinary field. Alex always had a passion for animals; however, he currently has no pets at home. He loves interacting with all your furry friends and is constantly searching for new ways to better your pet's experience.
In his spare time, Alex likes to go outdoors and play sports such as volleyball and ultimate frisbee. In addition to that, he loves to play instruments and video games.
Taylor Bryon
Client Care Representative
Born and raised in Scarborough, Taylor grew up with her senior cat Princess and was surrounded by cats for a long time. She is planning on attending school this fall to become a Veterinary assistant and later become a Veterinary technician. Taylor has a passion for animals especially Bichon Frise' and working with clients to make sure their pet's needs are heard.
In her spare time, she enjoys watching anime and jamming to k-pop as well as going on long runs in nature, swimming and spending time in her garden.
Leah Gillespie
Client Care Representative
Leah started working with animals as a teenager and has been loving it ever since! After working in pet boarding, daycare, and grooming for seven years, she transitioned into working in veterinary clinics. Starting out as a vet assistant, she found that she loved working front desk reception and being able to get to know the clients and their pets. Growing up with cats, Leah lives with 2 rescue cats, Sneaker and Sterling, and Jambo, a Senegal parrot. She is also a lover of large dogs, in particular huskies and labs.
In her free time Leah likes to maintain her container garden, oil paint, spend time in nature, try new recipes, and she sings in a Toronto alternative band.
Madhu Nakka
Veterinary Assistant
Bio coming soon